I am looking at the AAXA P300 today, and seeing how it applies to the uses of a camper, as there are factors to consider when looking to buy a portable entertainment device to use in the outdoors.  The P300 is a well rounded model that costs $419, is that price worth it?
The P300 is a Pico Projector, meaning that it is typically smaller than normal projectors, and indeed it is!  The P300 measures just 5.9 x 3.8 x 1.5 inches, making it easily portable, small enough to put into a backpack while hiking or a suitcase.  The optional 60 minute battery that we got certainly helped as we did not have power for the majority of our trip.
The P300 is a small projector, but that doesn't mean it skimps on power or compatibility, the P300 puts out 300 Lumens, which makes it three times brighter than most other Pico Projectors.  The only downside to offering a battery with the unit is the brightness dips quite a bit when on battery, to 160 Lumens.  This is still impressive considering most other pico projectors put out about 100 Lumens.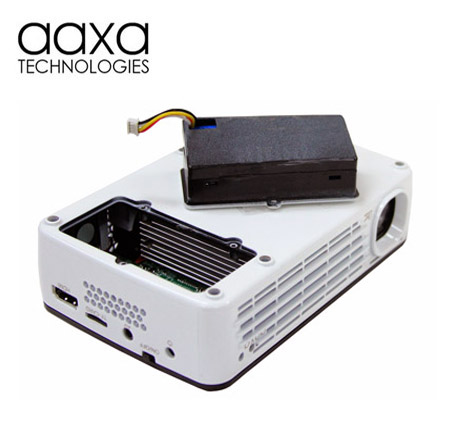 AAXA's P300 also did well when it came to the inputs it offers, giving us a wide range of ways to plug in devices.  The P300 comes with an AV input, which can be used to plug in traditional RCA devices like DVD players, or an iPhone connection which you can use to display your videos and photos.  It also has a full sized HDMI port, allowing you to use any HDMI device with the projector.  The last of the input ports is VGA, letting you use almost any computer with the projector.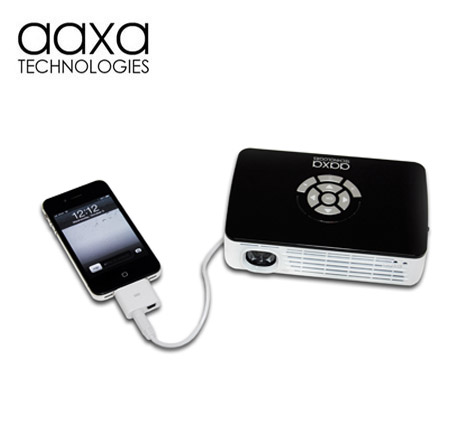 The P300 also has a slot for USB and MicroSD, which can have media loaded onto them and played directly from the P300, giving you tons of options as to what you can play.  The P300 currently supports MP4, MP3, WMA, OGG, WAV, AVI, BMP, JPG, GIF, and TXT.
My only complaint about the P300 would be its speaker, it's not as powerful as I would have liked, but I can't really complain as it does so many other things well.  Overall, we would recommend this to people who want a good versatile projector, one that is portable yet powerful.